Focus 2.5 for Mac OS X 10.2
Did you ever wonder what your frontmost application is? You've just quit a couple, switched a couple of times with command-tab, and closed a window and now you're not completely sure if its application was closed as well.

You take a look at the Dock, but nothing gives away the frontmost application. You see a couple of them are running, but which one will quit if your itching fingers hit command-Q? You can always look at the menu, of course, but wouldn't it be easier to see an icon instead of only text?

All Focus does, is show you the active application's icon. Because its function is that simple, I've thrown in the usual junk of customizability: size, transparency, position on screen and window layering can all be adjusted to your needs. Version 2.1 adds an optional clock, analog or digital.
Focus with analog clock option
Digital clock option
Transparent icon
You can have a small icon in the bottom-left of your screen telling you which application is active, or a giant transparent icon on your desktop to make your work environment somewhat more, eh, dynamic.
New in version 2.5:
If autohiding is on, Focus will now also hide itself if the mouse comes near it during a drag operation.
The separators of the time will blink in the digital clock if the seconds are not shown
New in version 2.4:
Exclusion list for applications in which Focus will hide itself
Horizontal and vertical position sliders for the digital clock
The digital clock font size can now also be set using the Font panel
You may have to do this the first time you run this version to see the clock
Dutch Read Me and localization (along with an updated Japanese one)
New in version 2.3.1: Enabled analog clock transparency for all hands.

New in version 2.3:
Analog clock color can be set for hour and minute hands
Support for multiple-monitor systems

Select a screen from the screen popup in the preferences
or drag the icon to any screen you like
Thanks to Thomas Deliduka & Michael Jardeen for testing this
New in version 2.2:
Japanese (thanks to RedGecko) and Dutch localization
New in version 2.1:
Digital clock option added
New in version 2.0:
Focus can now optionally display an analog clock on the icon
Focus is easy on the CPU, but you can hide the second hand of the clock to let Focus use almost no CPU time at all
Transparency of the clock is freely adjustable
Added option to ignore the dock and menubar while auto-positioning the icon
Added option to ignore all clicks on the icon, effectively allowing you to click 'through' the icon for applications that support it
Added option to draw a window background behind the icon, for example to better display above the Apple logo in the menubar
Transparency can be set to 100% now (double click the application icon in the Finder to show the preferences if you can't find the Focus icon)
Preferences window re-organized
Updated application icon to have *just* a little transparency
Added donation link to About window (a man's got to eat ;-) but Focus will remain freeware
New in version 1.2:
Optional fade between icons when switching applications
Optional drop-shadow behind the icon
Option to float icon above the menubar and dock
1.2.1: Small preferences bug fixed
New in version 1.1:
Auto-hiding of icon if the mouse floats over it
hiding can temporarily be disabled by holding the control key
icon format is shown and can be changed to a free value
icon format slider now goes all the way down to 16 pixels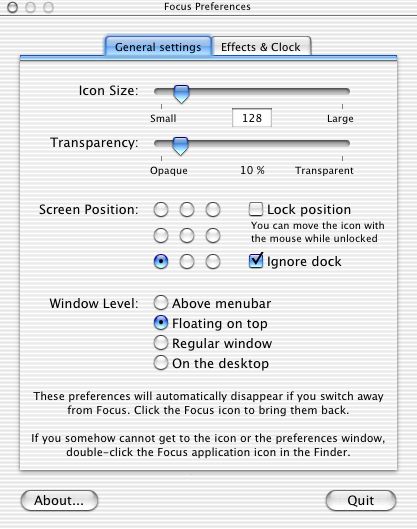 Focus is ideal to put in your Login items in your System preferences. Focus doesn't appear in the dock, and stays clear of it if you change resolutions or move the dock. Apart from nine standard screen positions you can drag Focus anywhere to be just there where you see it but doesn't get in the way.
Focus has its own preferences window which is shown as soon as you click on its big icon. If you close the preferences window you can get it back by control-clicking on the big icon; a menu will appear allowing you to show the preferences window again. You can quit Focus from this menu too, or by using the button in the preferences window.
Focus is freeware. © 2003 Eerko Vissering. All right reserved.